Dive & Stay - Tobago
Stay in land based accommodations in Tobago with guided SCUBA dives. Limited time offer.
Itinerary

This is a sample itinerary. We will be diving with local dive schools so the dives will be based on weather and prevailing conditions.

Scuba dive sites (from MyTobago.com):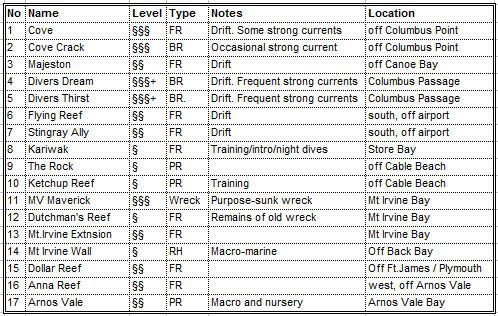 Tobago is dense with marine life and we should see Porcupine fish, 5 different types of Hamlets, White and Orange spotted filefish, the largest Queen and French angelfish you have ever seen, Snubnose and Ringtailed puffers, Scrawled Filefish, Spotted drum, Hawksbill turtle, High Hats, Lizardfish, Trumpetfish, Juvenile Trunkfish, Flamingo Tongues and Fingerprint cyphoma, Red Band Parrotfish, intermediate Spotted Drum, Eagle Ray, purple eggs abandoned by a Sgt Major fish, juvenile Yellowtail Damselfish, Groupers, Spiny and Slipper Lobsters, and Green and Spotted Moray Eels, Batfish and Frogfish and much more.
We will be staying at Sandy Point Beach Club in the Crown Point area of Tobago, near the airport. We will probably dive with Frontier Divers and/or R & Sea.

You may make your own accommodations and still dive with our group.

If you want to pay for accommodations and your dives on your own, but want to dive with our group, please tell us by email at Sal@SailDives.com so that we can include you in our diving reservations.

You can also rent a condo through us at Sandy Point for $899 (USD) for the week. You can rent the same unit directly from Sandy Point for $1,299 (USD). The condo sleep 6, with privacy for 4, and has full kitchen, pool, 3 hot tubs and daily guided tours if you decide not to dive. They have a free shuttle to the beaches, a restaurant and bar, and grocery shopping is nearby. Price is for condo only and does not include food or beverages.

If you decide to book your own accommodations and pay for your dives directly, but wish to join our group, please contact sal@saildives.com so we can include you in the reservations.
The diving costs between $38 USD (multi-dive & Group price) and $55 USD (single dive) per boat dive and you can book with us for multi-dive group discount or pay directly just for the dives you decide to do.
Depending upon what we decide to do we may travel to the North of the Island to dive at Speyside, or on the Northwest side where we find Sisters and London Bridge. Go to MyTobago.com for a complete list of dives sites.
We estimate that if you have a quad occupancy in the condo, with food, beverages, taxi and 10 SCUBA dives your total cost should be around $1,000 per person. That of course depends on how much you spend for food, alcohol and taxi.
We have dove in Tobago over 100 times on the South, West and North East sides. It is one of our favorite diving destinations.