Barefoot Sailing on Crewed Catamaran Yachts
Sailing over warm calm water, dining while overlooking a sparsely populated tropical island, with a Captain, Chef and Dive Master on board to serve you. This lifestyle of the rich and famous is an affordable reality for anyone!

This is not a dedicated SCUBA dive trip where you dive, dive, dive with little time to do anything else. Our SailDives itinerary includes 10 guided SCUBA dives from the yacht, plus plenty of time to snokel, help sail the yacht, explore unihabited islands, take a roanic walk on a secluded beach, shop in a tiny village or just kick back with your favorite cocktail and relax.

There is a 2 person boat crew of captain and chef who run the boat, clean and provide meals, and a 2 person dive crew who will lead the dives, help you with gear, photography and marine life identification.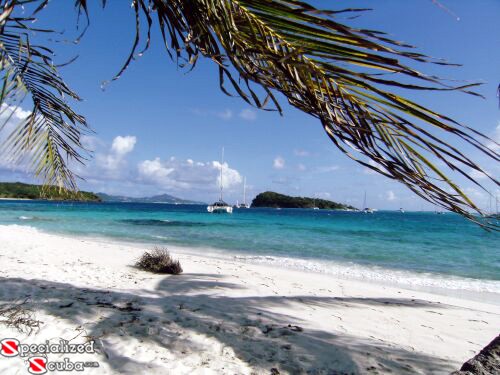 You will be able to SCUBA dive the way you want to: in small groups never larger than 8 guests; in remote locations where dive shops and cruise lines do not go, and at your pace until you reach air or bottom time limits.

Our packages are All Inclusive, food, beverages (including beer, wine and alcohol), water sports equipment (including SCUBA gear) and all port and marine park fees, fuel, ice, water and anything else used on the yacht.

Best of all, if your spouse or significant other is not a diver, you will still be able to enjoy 10 great SCUBA dives like you would with any other SCUBA travel package, but have lots time to enjoy those precious moments together: no planning, no cooking, no cleaning, no work.

If you are a single traveler, you are not penalized by stiff "single supplements" and you will have a small group of like minded people to share in the fun.

Join the email list for 50% discounts on last minute cabins