About Us
Please note that the SailDives product is no longer offered.
We started this business in 2009 because we have a passion for SCUBA diving in some of the most beautiful locations in the world, in small groups, at our own pace and dive length, and felt that there were lots of other people that would enjoy that type of Specialized Scuba.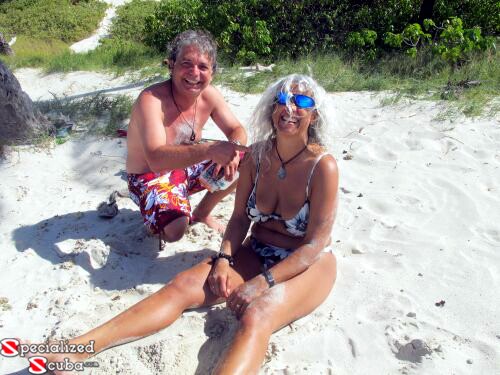 We have traveled on dozens of live aboard dive trips and to hotels with dive packages. We have taken these experiences and put together what we feel is the best vacation possible: enough great dives to keep the seasoned diver happy, no work, no worries and lots of other activities, food and fun.

For us it is not about being the cheapest, but delivering the best value and memories that last a life time.

Warm clear water, reasonable travel distances, friendly like minded people and intimate small group scuba diving, with luxury, comfort and relaxation is what Specialized Scuba is all about and that is exactly what you will find on every SailDives charter.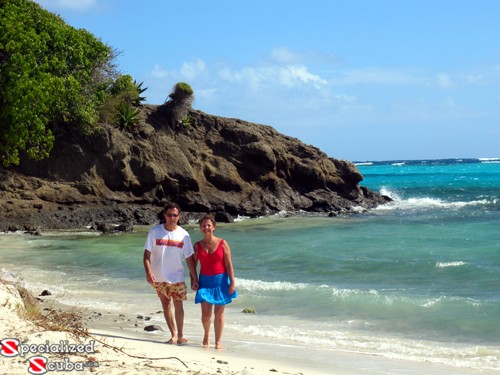 Most SCUBA travel packages include 10 dives and hotel accommodations and maybe with meals of questionable quality and freshness.

While we have enjoyed many trips like that, and some not so good, what we have put together with SailDives is a combination of Sailing and Diving at a relaxing pace, great food, with beautiful accommodations, and a crew that does all the work on an itinerary with lots of other activities that you can do on your own, with other guests, or with your significant other even if he or she is not a diver.

Since everything is done right off the boat, there is no wasted time. So while the divers get wet, a non-diver can snorkel, dinghy to a village for some shopping, look for shells on the beach, read a book or just chill with a favorite beverage.

That is what we mean when we say that with SailDives you can "Sail - Dive - Together"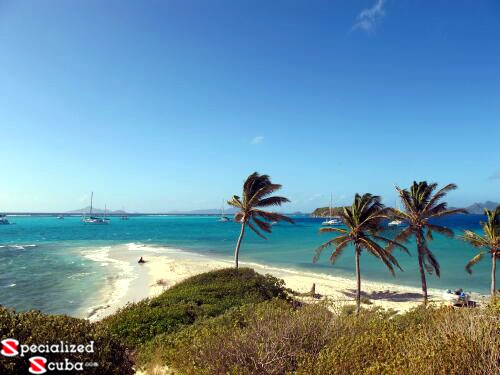 We really enjoy a freshly prepared meal right after the dive, then stretch out and relax while the boat crew heads to another beautiful location. If the final dive is before lunch, then we love wine with the afternoon meal, and the party part of the day can begin.

Speaking of accommodations with amazing oceanfront views, the boat crew moves the yacht multiple times every day as we go from one awesome location to another for a freshly prepared meal in a quite bay, sailing silently across the waves, snorkeling at an isolated shallow reef, or enjoying a romantic walk on a secluded beach. It's not just an ocean view, it's multiple daily waterfront views, that are different every single day.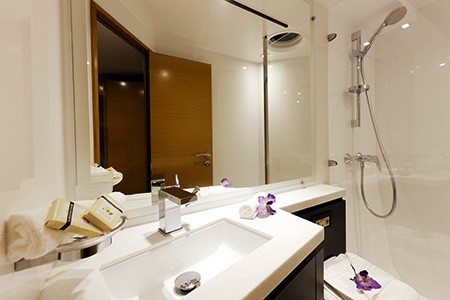 With our SailDives charters you will still get the 10 weekly dives that you would expect in any dive travel package, but much more than even an oceanfront hotel can provide.

Your deluxe cabin has electrical outlets, a large comfortable bed, plenty of storage for cabins of this size and it's own private head and shower and every room has an oceanfront view.

While we certainly enjoy a luxury hotel with an Ocean Front view from one window and that can be wonderful. However, we are not so hot on leaving to go out for every meal, wasting time to go to the dive shop then sitting around on the boat, and carrying your camera, dry bag and gear back and forth.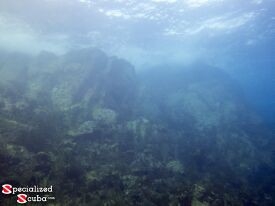 We have lots and lots of dives under our belts and do not enjoy wasting time going here for this and carrying that over there. Having everything right at your fingertips on the catamaran yacht is beyond awesome.

We are not 20 years old and do not need to prove anything to anybody. Most of our guests feel the same way.

We dive at a slow pace to take pictures and not on some schedule, but until we run out of air or bottom time. Afterwards we want to relax and have more fun. Sometimes it's nice just to knock back a cold one and take a nap.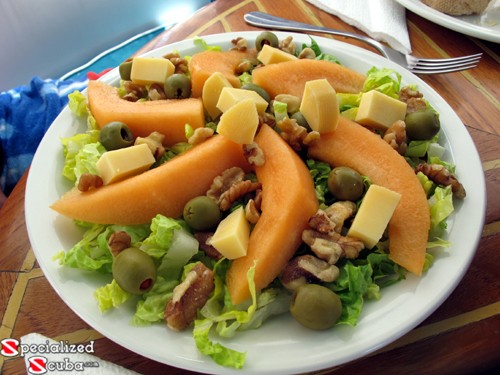 Food is another issue with us. Between us too many times the food is too spicy, has powered onions or powered garlic that causes an upset stomach, or we can not find any real vegetarian options.

On your SailDives charter every meal is prepared fresh by the on board chef, with provisioning to take into consideration your special dietary needs, and then served with delightful presentation, not just ocean front, but on the water.

Your dining menu can be specialized for vegetarians, those who dislike fish, Gluten free or other dietary restrictions excluding severe allergies. Just let us know in advance and we will use best efforts to provision to accommodate your choices.

Then after the dives are over, if you prefer beer to wine, or scotch over vodka, grapefruit juice or soda, you can request the provisions that meet your tastes and consume as much as you desire. All of this with no worries, because SailDives are ALL INCLUSIVE with no surcharges or hidden fees of any kind.

We know that this may not be for everybody. There was a time when the most important thing was the cheapest trip or doing as many dives as possible. If that is how you feel, then this is not for you.

However, over the years, we have grown to appreciate the rare gift of having health, time and money and the importance to live in the moment, while following your passion and relaxing in luxury and comfort.

So if you have reached that point in your life, we invite you to join us on one of our 7 or 14 day All Inclusive crewed catamaran sailing charters.

Best wishes from Corey and Sal and remember,
It's All About the Journey TM