The Specialized Scuba Experience
Dive, Swim, Sail, Laugh, Snorkel, Kayak and visit unspoiled remote locations. As in all of our excursions, the yachts are manned by professional crew, but you can help sail the yacht if you want. All meals are fresh and wholesome. Dietary restrictions such as vegetarian, gluten or lactose free, and others can be accommodated as well as you preferences for food and alcohol. You also get 3 to 5 free SCUBA dives during the week as well. The mission is to have every guest enjoy a vacation trip of a lifetime! CONTACT US FOR AVAILABILITY!

Time Together in Paradise!
Sometimes divers may take dive vacations away from their non-diving spouse. SailDives TM are better alternatives to other diving vacations for couples with a non-diver because you can both go on a vacation together!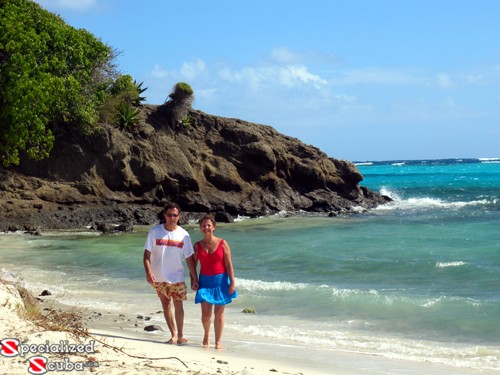 SailDives TM are a Positive Compromise by meeting the needs of the diver and non-diver in a single fun vacation together. Both divers and non-divers are very pleased with the 1 or 2 dives per day that we typically schedule. This provides our guests with plenty of opportunity to enjoy snorkeling, kayaking, exploring on land or just relaxing together.

Who goes on a SailDives (TM) Mixed Charter?
People who enjoy the water, are fun loving, open minded and get along well with others. Typically there will be three couples plus crew on board. This creates a more intimate experience than you have on larger live aboard dive boats and cruise ships.

Just think about the trip and decide if you want to share a yacht with 2 or 3 other couples. If you think it will be fun and an exciting adventure to visit new places and meet new people then you'll want to come aboard. Some people may be concerned about being easily offended or annoyed by a stranger on-board, those folks tend not to go on these trips.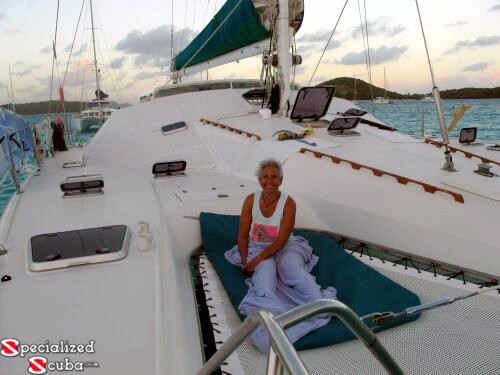 Limin' or Chillin'
You decide how much time to spend chillin' alone or limin' with the others. Some couples like the trip to be more intimate so you might separate from the group on an outing or you may wish to do some activities by yourselves. If you want time alone you could stay aboard while the others go ashore or vice versa, you can visit an island while the others enjoy activities aboard the yacht. Whatever makes you happy!

Sometimes several non-diving passengers will socialize together while the divers are off SCUBA diving. During this time you can float with a noodle and a cocktail or take the kayak out for a spin. If you'd like, the boat crew can bring you via dinghy to an island for a walk on the beach, a hike to explore or shopping...if it happens to be an inhabited island!

You can explore the island as a couple or all shipmates can go as a group. Our mid-week dinner ashore will typically include the crew which gives everyone a chance to relax and be served.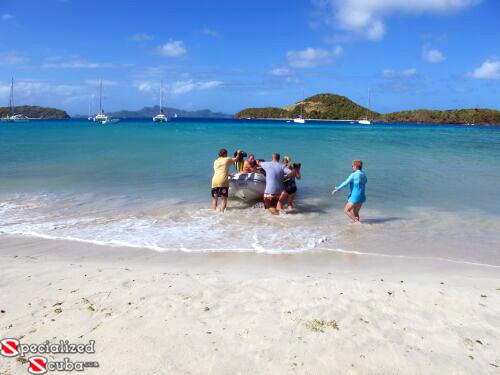 It's up to you how much time you spend alone or together with your new friends socializing as a group.

Plenty of Great Dives with Fun Things for Non-Divers too!
The trips are planned to have plenty of great diving, as well as lots of other options for boat and shore based activities.

There is always the option of just relaxing, it can be with a good book in the shade or you can grab an afternoon nap on the trampoline with either sun or shade.

You'll always enjoy the great food prepared by our on board chef. Captain's Sunset Happy Hour is always a treat. You might have Banana Pina Colada, Rum Punch, Margaritas or some other tasty treat while you enjoy the end of a lovely afternoon and welcome the beginning of a warm wonderful evening.

There will be plenty of time for you to enjoy your view from the boat. At night you can gaze at the stars from your comfortable yacht floating on the warm Caribbean sea. And after a scrumptious dinner and desert you can fall asleep on the deck under an amazing starry night free of light pollution. Alone under magnificent twinkling stars it'll seem you're the only couple on earth!


Excellent scuba diving & snorkeling going where no one else except a yacht owner can go. Pristine reefs, no crowds, only the guests and crew.
Open water sailing in beautiful locations.
Modern, well equipped catamarans that are stable and well maintained;
All inclusive fresh and delicious quality food and unlimited drinks including unlimited beer, wine and alcohol;
Guided Dives, with assistance if needed in any entry or exit;
All SCUBA gear is handled for you, set-up and break down of gear included, with your choice of using your own gear or ours at no extra cost;
Lots of additional activities in addition to snorkeling, swimming, kayak, fishing and other water sports, there are land based excursions and opportunities for independent exploration.
Unbelievable Value. You are not required to charter an entire boat. The prices for one cabin with diving are less than what you would pay per cabin even if you chartered an entire boat. All SailDivesTM include both a boat and dive crew at no additional cost. This is a real vacation, no cooking, no cleaning, no worries. You enjoy small group diving diving, fresh and delicious food prepared and served to you, and unlimited alcoholic and non-alcoholic drinks on board.