The Specialized Scuba Experience
You have 2 great ways to enjoy a dream vacation of sailing on a crewed catamaran yacht in the beautiful tropical Caribbean paradise:

Cruise by Rental - Dive, Swim, Sail, Laugh, Snorkel, Kayak and visit unspoiled remote locations. As in all of our excursions, the yachts are manned by professional crew, but you can help sail the yacht if you want. All meals are fresh and wholesome. Dietary restrictions such as vegetarian, gluten or lactose free, and others can be accommodated as well as you preferences for food and alcohol. You also get 3 to 5 free SCUBA dives during the week as well. The mission is to have every guest enjoy a vacation trip of a lifetime! CONTACT US FOR AVAILABILITY!

SailDives - SCUBA focused itinerary for fantastic and intimate small group diving 1 or 2 times a day, 10 free SCUBA dives during the week, and plenty of time to relax and enjoy the beautiful Caribbean is yours on your next SailDive TM vacation.

Both the SailDives TM or Cruise by Rental vacations are great vacations for couples who are divers, but are just as good when one person is not a diver! The non-diver can snorkel, paddle board or just read a book during the dive, but you both "Sail - Dive - Together" on one fabulous vacation.

Time Together in Paradise!
Sometimes divers may take dive vacations away from their non-diving spouse. SailDives TM are better alternatives to other diving vacations for couples with a non-diver because you can both go on a vacation together!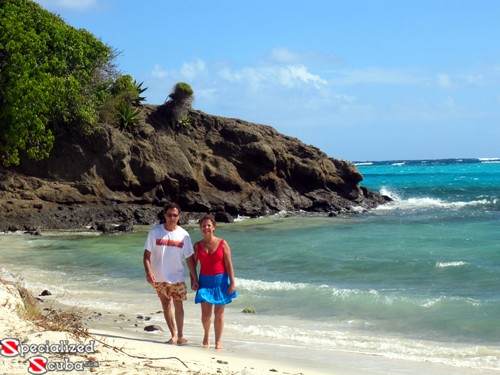 SailDives TM are a Positive Compromise by meeting the needs of the diver and non-diver in a single fun vacation together. Both divers and non-divers are very pleased with the 1 or 2 dives per day that we typically schedule. This provides our guests with plenty of opportunity to enjoy snorkeling, kayaking, exploring on land or just relaxing together.

Who goes on a SailDives (TM) Mixed Charter?
People who enjoy the water, are fun loving, open minded and get along well with others. Typically there will be three couples plus crew on board. This creates a more intimate experience than you have on larger live aboard dive boats and cruise ships.

Just think about the trip and decide if you want to share a yacht with 2 or 3 other couples. If you think it will be fun and an exciting adventure to visit new places and meet new people then you'll want to come aboard. Some people may be concerned about being easily offended or annoyed by a stranger on-board, those folks tend not to go on these trips.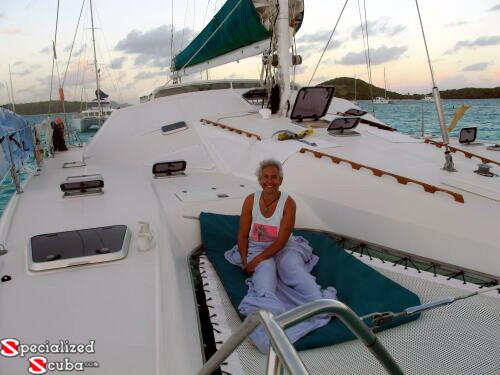 Limin' or Chillin'
You decide how much time to spend chillin' alone or limin' with the others. Some couples like the trip to be more intimate so you might separate from the group on an outing or you may wish to do some activities by yourselves. If you want time alone you could stay aboard while the others go ashore or vice versa, you can visit an island while the others enjoy activities aboard the yacht. Whatever makes you happy!

Sometimes several non-diving passengers will socialize together while the divers are off SCUBA diving. During this time you can float with a noodle and a cocktail or take the kayak out for a spin. If you'd like, the boat crew can bring you via dinghy to an island for a walk on the beach, a hike to explore or shopping...if it happens to be an inhabited island!

You can explore the island as a couple or all shipmates can go as a group. Our mid-week dinner ashore will typically include the crew which gives everyone a chance to relax and be served.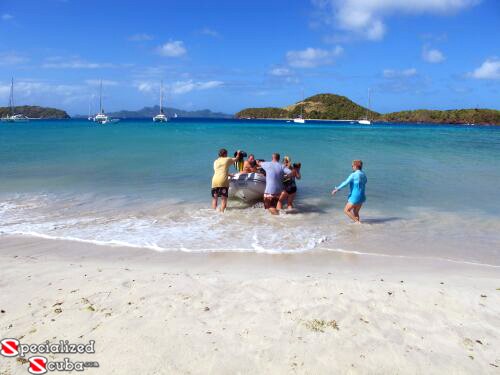 It's up to you how much time you spend alone or together with your new friends socializing as a group.

Plenty of Great Dives with Fun Things for Non-Divers too!
The trips are planned to have plenty of great diving, as well as lots of other options for boat and shore based activities.

There is always the option of just relaxing, it can be with a good book in the shade or you can grab an afternoon nap on the trampoline with either sun or shade.

You'll always enjoy the great food prepared by our on board chef. Captain's Sunset Happy Hour is always a treat. You might have Banana Pina Colada, Rum Punch, Margaritas or some other tasty treat while you enjoy the end of a lovely afternoon and welcome the beginning of a warm wonderful evening.

There will be plenty of time for you to enjoy your view from the boat. At night you can gaze at the stars from your comfortable yacht floating on the warm Caribbean sea. And after a scrumptious dinner and desert you can fall asleep on the deck under an amazing starry night free of light pollution. Alone under magnificent twinkling stars it'll seem you're the only couple on earth!




Great Scuba Dive Vacations
All SailDiveTM trips incorporate all the great features that you will enjoy:


Excellent scuba diving with 1 or 2 included scuba dives per day. On some itineraries night dives and wreck dives may also be available.
Open water sailing in beautiful locations. Currently we offer trips in Bequia and the Grenadines , Tortola and the British Virgin Islands, Tobago and Belize. We expect to open more locations in the future so check back often.
Modern, well equipped catamarans that are stable and well maintained;
All inclusive fresh and delicious quality food and unlimited drinks including unlimited beer, wine and alcohol;
Small Intimate Groups of passengers/divers (6 8 maximum per cruise)
Guided Dives, with assistance if needed in any entry or exit;
All SCUBA gear is handled for you, set-up and break down of gear included, with your choice of using your own gear or ours at no extra cost;
Every dive trip has been personally attended by a representative of Specialized Scuba, to assure you of a fantastic scuba diving and sailing vacation experience.
Lots of additional activities in addition to snorkeling, swimming, kayak, fishing and other water sports, there are land based excursions and opportunities for independent exploration.
Unbelievable Value. You are not required to charter an entire boat. The prices for one cabin with diving are less than what you would pay per cabin even if you chartered an entire boat. All SailDivesTM include both a boat and dive crew at no additional cost. This is a real vacation, no cooking, no cleaning, no worries. You enjoy small group diving diving, fresh and delicious food prepared and served to you, and unlimited alcoholic and non-alcoholic drinks on board.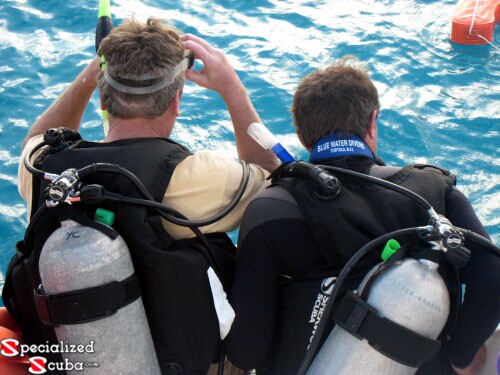 Sail Charters for Scuba Divers
Barefoot sailing with an experienced, licensed captain and a chef on board to handle the boat. A dive master and rescue diver on board to handle the dive gear and diving.

You can sit back and enjoy, or help out with sailing the boat, handling lines, setting up your dive gear, as you like. The yachts range between 45 and 57 feet in length so you are never overcrowded. While there is a planned itinerary for dives, snorkel locations, and places to explore, you can participate or not.

The itineraries are designed for "landmark" dive sites, some "rarely dived sites", and sometimes if everyone is game, we just "explore". All this creates great scuba diving opportunities, but within a well rounded framework providing a fun, adventure filled, and relaxing vacation.

What you decide to do is all up to you!
So if one or both of you opt out of a dive, the boat crew is still there to help you enjoy yourself, the way you want to.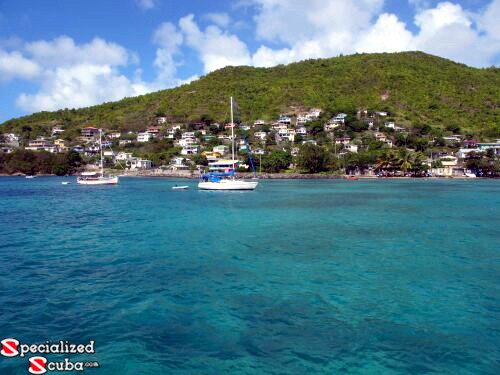 If you have never SailDived before, its time to enjoy the very best for your next vacation experience.

Sailing between dive sites, reefs and/or islands you will see the land from the sea and enjoy a different perspective than typical visitors who may only see the resort where they are lodged.

Every day, you will sail to places where only small yachts can, dive some sites that are rarely used, as well as some major wrecks or reefs in that area.

While the dive crew escorts the divers, the boat crew is available to assist non-divers.

To their delight, non-divers may enjoy kayaking, snorkeling, swimming, fishing.

The Dry Alternatives
Of course there are also dry alternatives, perhaps getting a ride in the dinghy to the closest uninhabited cay to snap "The perfect picture of a white iguana" or stopping at one of the inhabited islands to browse handcrafted jewelry or artwork made from local natural materials.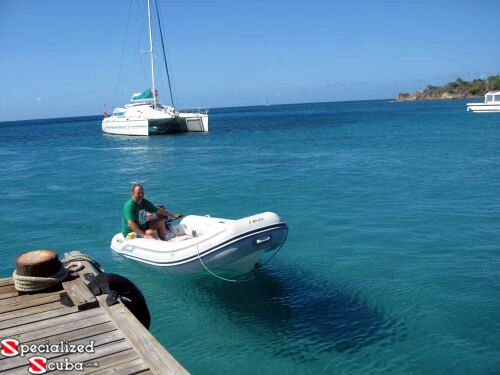 The goal of every trip is the "small island" experience. The way the Caribbean used to be decades ago.

The local bars and restaurants that provide a true island charm, where you can meet wonderful local people and see first hand their unique character and warmth.

Points of interest that you can explore if you desire, great places to snorkel or kayak, and access to local guides, all to help give you get a real "feel" for the place, without the glitz, the crowds, and the hassles of cruise ship ports or tourist traps.

Cruise by Rental on a Mixed Charter
We offer mixed adult charters where you will have a cabin on our yacht on a selected week, and we follow the basic itinerary with possible adjustments by the captain or agreed by the passengers. You are not required to book the entire boat. No children under 16 years of age are permitted on mixed charters. However, full boat charters for family cruises are available.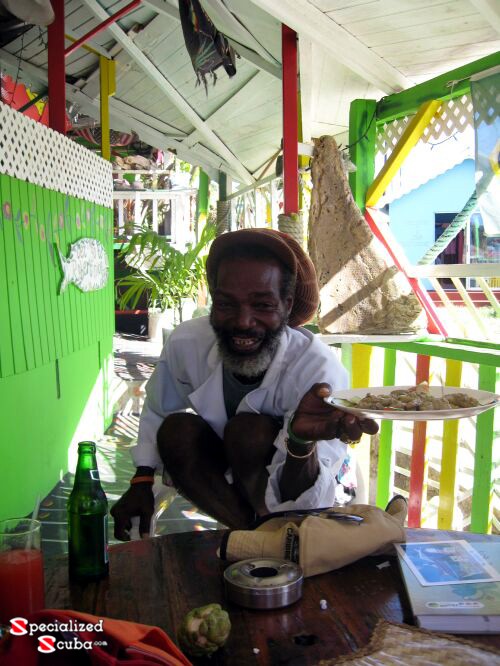 Whole Boat Itinerary Customization
When you charter the entire yacht, you can participate in the planning of your own small group or family itinerary designed especially for you! Depending upon how far in advance you plan, you may be able to book two luxury catamarans (up to 14 -18 passengers with 6 crew) for your family, group or organization. Perhaps you may want to create a memorable family vacation that includes non-divers. By booking all the cabins you have the greatest flexibility in itinerary modifications. You control who travels with you on your charter and for example, your family vacation can allow you to bring children under 16 years of age.

Groups and Entire Boat Bookings get DISCOUNTED RATE
We will work with you or your group to: modify the itinerary to your preferences if you so desire; schedule the boats for your preferred date and location, and of course; provide you or your group with a whole boat discount off the standard per cabin price for double occupancy with whole boat rates.

If you are a travel re-seller or dive shop, the commission is payable on whole boat bookings, upon prior confirmation of availability with us. If you are a group, the commission can be a fund raisers for your organization, or you can pass the savings onto your members. If you are a family, its a savings that goes right to the bottom line.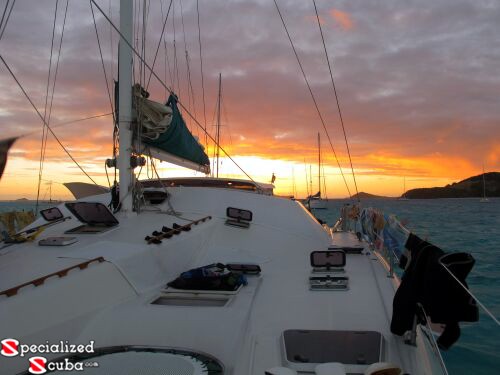 Custom Charters Limited Spaces
Since every trip is aboard a custom catamaran yacht with only 6 to 8 guests, there is obviously a very limited number of cabins available, and they sell out early. Typically, low season is booked within 6 months prior to departure dates and peak season bookings should be made 12 to 18 months in advance. Once a cabin is taken, that space is gone. Unlike mega cruise ships, there are truly a limited number of spaces available.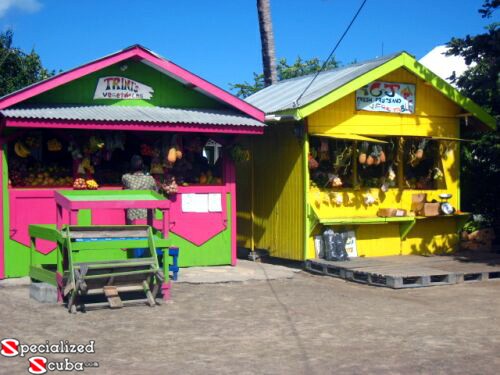 Adventure on Land as Well as at Sea
Every SailDiveTM charter include lots of fun filled opportunities to explore exotic locations that are inaccessible to large cruise ships or commercial jets. While this may make air travel a bit more expensive and the scheduling a bit more challenging, we will help you make travel arrangements from your location to our dock, with reliable and tested local knowledge about international arrival points, ferries and island hoppers, down to a trustworthy local taxi service. Concierge service is part of your SailDiveTM vacation.

You will have the opportunity to explore on your own, or you may participate in one of the various suggested tours. Every vendor, taxi driver or tour guide service has been used many times in the past, so you are assured they are reliable and will have local knowledge and options so that you can make the experience what you want it to be!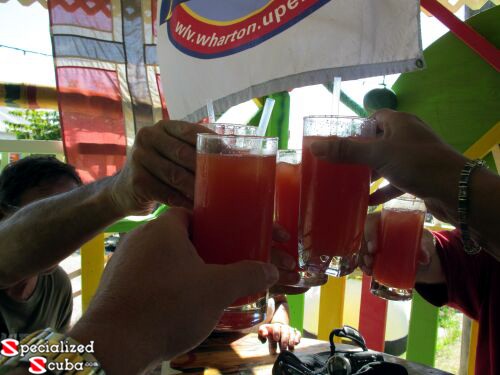 Food and Fun and Interesting People
Each cruise includes one mid-week dinner where you are on your own to explore the local cuisine. Of course you could join us at some of our favorite local spots, and meet some of the most colorful and interesting personalities you may ever encounter.

But be careful of the rum punch!

It really packs a punch!

Well, maybe it was the third... or fourth.

To plan your next unforgettable Cruise by Rental Mixed Charter or a special SailDivesTM trip, click on the location links to learn more about each SailDiveTM destination.


It's All About the Journey TM