SailDives - Bequia
from Port Elizabeth, Bequia in St. Vincent and the Grenadines - Boarding at 5 PM Saturdays. (Prices include 15% VAT) Click "Reserve a Cabin" to see the list.
14 days - St Vincent and the Grenadines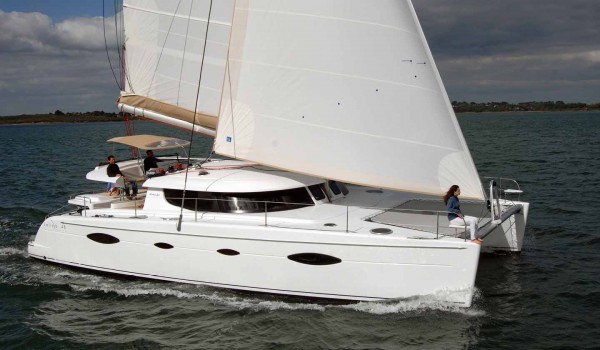 Dedicated Live Aboard Dive Boats are prohibited in St. Vincent and in the Grenadines.

So large areas with great diving are pristine and virtually never dived unless one uses a private yacht.

So, unless you own your own yacht, there is no other opportunity for a full 14 day charter that includes all of the Grenadine Islands from St Vincent to Grenada, about 75 nautical miles.
With only 3 spacious guest cabins on the 50' catamaran yacht, there is plenty of room for everyone to enjoy each other's company and still have quiet space for an afternoon nap or to review photos of the last great dive.

With a maximum of only 2 divers per cabin, you will enjoy the ultimate in both luxury and small group diving experience.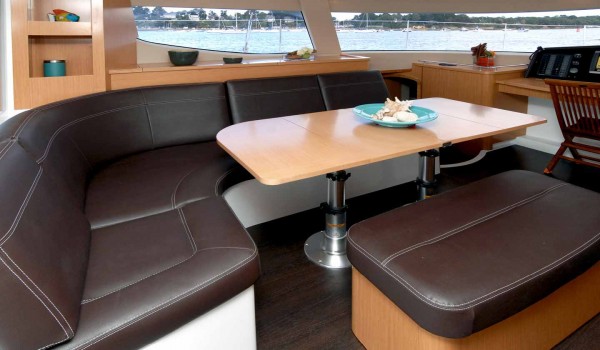 The price is All Inclusive for 2 persons for the 14 days and includes all fuel, port charges, taxes, permits, salary for the boat crew, food, beer, wine and alcohol and all water sports equipment includeing SCUBA gear and air fills along the way.

There are only 3 guest cabins with a maximum of 2 guests per cabin plus 4 member crew: Captain, Chef, Divemaster, Rescue Diver.
There are 20 dives from the yacht with optional rendezvous dives available in restricted areas of Tobago Cays Marine Park and the Marine Reserves in Grenada that allow local dive schools only.

Every cabin has its own private en suite head and shower. Every cabin has its own 110 volt USA type electrical outlet for charging camera and dive light batteries, cell phones or laptops.
During this SailDives charter our itinerary may vary due to weather or other conditions, but in general this is the itinerary we will follow.

While we are in the Northern section of the trip, we may vary when we move between St Vincent and Bequia so that we can minimize adverse conditions.
It is also possible that as we move South, we accelerate or delay at one point or another for logistical reasons such as provisioning or being able to do rendezvous dives if they are only offered on certain days.

We depart from Bequia, then head to St Vincent and dive the West side where virtually no local dive shops go, then dive the South of St Vincent.
We will dive walls, wrecks and critters with some night snorkels or dives depending upon what the passengers want to do.

After St Vincent we will head back to to dive in Bequia and have some time to explore this beautiful island.
Our next island is Canouan and the possibility of a rendezvous dive at Petite Canouan, again depending upon conditions and the interests of the guests.

After Canouan we may dive at Sandy Island, Mopion, or some other sites and then do the North and South sides at Chatham Bay in Union.
While in that area we will do some optional dives with Grenadines Dive in The Tobago Cays Marine park.

Somewhere at that point there will be a break in the diving while we spend some time snorkeling with the turtles at the turtle sanctuary in the Tobago Cays Marine Park.
Exploring the uninhabited islands in the Grenadines and look for iguanas, land tortoises, snails and hermit crabs.

This is one of the most beautiful areas in the Caribbean and having the time to relax, snorkel and sail is all part of the fun.

A short dinghy ride to Jamseby Cay and we will climb the rocks to the top for a spectacular view.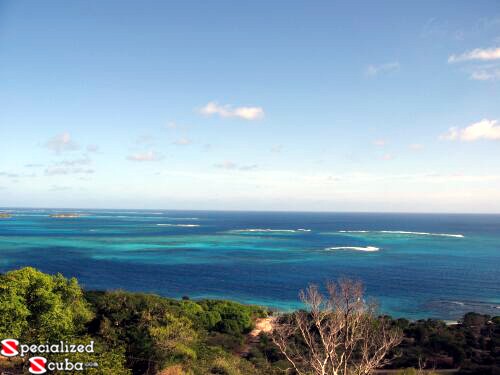 The tiny island of Mayruea with the spectacular Salt Whistle bay, the "road" to the vista of Horseshoe reef, and a visit with Robert Righteous at his island bar and the secret formula for a Rum Punch that really packs a punch.

Along the way there will be 3 dinners ashore and the final night at Grenada where we can enjoy local cuisine and atmosphere while the boat crew does turnaround for linens and cleaning of all the cabins and the ship as a whole.
On the mid-trip Saturday, we will be off the yacht for about 5 hours while the crew re-provisions and cleans the yacht again top to bottom.

During that time we typically arrange a rendezvous dive in the Marine restricted areas, but you can skip that and take a land tour, or just sit on a sandy beach with a cooler filled with cocktails from the yacht.
After Union we leave St Vincent and enter Grenada waters, dive and spent some time in Carrioucou.

After Carriocou we head to Isle de Rhonde to dive at Big Blue, hopefully 2 dives there, conditions permitting. While most dives on the itinerary are suitable for open water dives, some require not only advanced certification, but experience with more challenging conditions.
Big Blue at Isle de Rhonde is one of the more advanced dives that we will do, but it is also a site that is virtually never visited by humans.

Big Blue in Isle de Rhonde is an advanced dive with possible strong currents and a deep wall where we drop to 110'.
After rising from the wall we round the 1st pinnacle and you find yourself grasping on the rocks on the bottom to pull yourself through the surge in the gap between the pinnacles.

After that we enter a cave with 2 openings followed by a short swim back to the yacht that may have some surface current.
Finally, we head to the South end of Grenada where we dive the wreck of Veronica L and dock for the final night.

The guests depart the yacht in Grenada by 9 AM Saturday, or at anytime beforehand that may be necessary to make your flight connections.
Normally we would do our last dive Friday, right after breakfast, to allow sufficient time to off gas for those guests that are flying on Saturday.

We suggest that since you are in Grenada, you spend a couple of days there to dive at Dragon Bay Wall and Flamingo Bay in the marine park before heading home. and take a day to "dry out" and explore "Friendly Island" of Grenada, the spice capital of the Caribbean.

Check out September 2015's Undercurrent online magazine for a current article about the awesome diving in the Grenadines.

We have spent a lot of time talking about the diving, but there are lots of other activities during this awesome trip.

You can fish while trolling between tropical islands and relax while sailing sometimes with no other boats or people in sight.

The fishing is usually pretty good because there are not that many "yachties" or fishing vessels, especially the further South we travel we usually get to enjoy fresh fish that we caught while sailing.

Another special treat is killing some invasive lionfish and having fresh Lionfish fillets, breaded and lightly fried for one or two meals during the week.

The Lionfish is an invasive species with no natural predator in the Caribbean, and although venomous, it is not poisonous and is a delicious white flaky fish, better that flounder or cod.

This is a remote location, but you will be met by warm and friendly locals, and enjoy some of the very best diving in the Caribbean! These yachts are about 3 years old.
Price listed is the TOTAL price per cabin for 2 persons ALL INCLUSIVE food, alcohol and sports on boat including Scuba.

Price includes 15% VAT.

To check dates and current Availability click here.

It you have any questions about what is included, itinerary, the yachts, dates, prices, whole boat bookings please feel free to contact us.>

top