SailDives - Bequia
from Port Elizabeth, Bequia in St. Vincent and the Grenadines - Boarding at 5 PM Saturdays. (Prices include 15% VAT) Click "Reserve a Cabin" to see the list.
Itinerary for 14 Days to Grenada
This is a photo journal of the 2016 Two week trip from Bequia in St Vincent to Grenada. All the photos were taken on the dates and places listed so that you can get a feel for what this cruise is like. We can not guarantee that this will be "exactly" what we do on any future itinerary or that you will see the exact same things we saw on this trip, but if you take the time to read the journal, look at the photos and click the linked photos to see the full photo albums, you will have a very good understanding of what this type of a trip is like.
---
Arrived at Dive St Vincent
We fly in from the U.S.A. through Trinidad (POS) and stay overnight there on Thursday, 13 October 2016. Unfortunately, LIAT has stopped offering the 6 A.M. flight from POS to St Vincent (SVD) so we are booked on the 9 A.M. Flight.

As soon as we get in from the first LIAT flight into St Vincent we head to Dive St. Vincent for some critter dives with DJ and Calle. We drop off our luggage at Mariner's where we will stay for the night. It is a short walk along the boardwalk from Mariner's to Dive St. Vincent.
Heading to Orca Point
From Dive St Vincent it is a short ride to a great dive site at Orca Point

Our first dive at Orca II with DJ is 1 hour 11 minutes, max depth 60', viz 40', mild South current under partly sunny skies and water temperature is 84F with 0-1' waves.

We have dove at this site dozens of times over the years and it is something you can never get tired of because there are so many different ways to do each dive and a never ending supply of interesting marine life.
Orca II St Vincent
We follow the grass line toward the depth stopping at Ray's Condos along the way and then return along the rocky West side.

There are lots of eels and on this dive not only the common black Spotted Moray, but a Sharptail Eel and the rarely seen Blackspotted Eel.

Add in Cherubfish, Two-claw Shrimp, Spotless Snapping Shrimp and you have the top 4 photos.
Juvenile Greater Soapfish, Lantern bass, Two Hole Clutch Crab, Beaded Sea Cucumber and the list marine life hardly seen elsewhere goes on and on.

On our 5 point scale, with 5 being one of the 10 best dives in this hemisphere, this site is rated 4.0 as Excellent. It has grass, sand, rock, coral, sponges flats and depth, and marine life that you simply never see anywhere else. This bay is so productive there ae actually 3 dive sites here and we do some of the same sites with different patterns for a different experience. Totally awesome!
Orca III St Vincent
Our 2nd dive on the first day before boarding the yacht in Bequia is in the same bay at the dive site Orca III with DJ leading. Dive is 1 hour 19 minute, viz 40', mild South current, max depth 52', water temperature is 84F, partly sunny skies with 0-1' waves.

We follow the sand and grass line on the East side checking Ray's condos along the way, then cut West to make a counter-clockwise circle back to the sand line and return to the boat.
The highlighted photos are the Chestnut Moray, Havana Mantis, Key Brotula, Bucktooth Parrotfish and the juvenile Blackear Wrasse has to move to 5th position if you can imagine that.

There were also Goldspotted Eels and Sharptail Eels sharing the same cover, Green Razorfish dancing across the grass, which was spotted with juvenile lobsters. Squirrelfish, squid, Mutton Hamlets, unusual colored Bi-colored Damselfish and Lantern Bass were commonly spotted.
Similar to the previous dive at Orca II on the other side of the Bay, this site can be dove different ways with different experiences as it has sand, grass, rocks, coral and sponges as well as depths and shallows.

Again we rate this dive as Excellent at 4.0 because there is variety of environments, lots of marine life and always something unique and interesting to find here.
---
Two & a Half - St Vincent
It is Saturday and we will be boarding the yacht in Bequia at 5 PM to start our 2 week SCUBA charter to Grenada. We arrived in St Vincent yesterday and got 2 great dives in with DJ at Orca. This morning, we will do Two and One Half with Calle, take the 11 or 11:30 AM ferry to Bequia, then do an afternoon dive there and they will drop us off at the Tradewinds base for the 5 PM boarding.
The dive is 1 hour 6 minutes, with a max depth of 42' and there was a mild current that was East at one point and North at another point. Visibility was 40' under partly cloudy skies, 0 waves, and 84F water temperature.

Again it is always so hard to pick the 4 images to lead the album, but that is good thing. We saw 2 different Longsnout Seahorses, BlueBar Jawfish (not Yellowhead Jawfish), 3 different octopi, Cherubfish, juvenile Soapfish, Goldspotted Gobies, Goldspotted and Sharptail Eels, juvenile Golden Coney and lots more. I favored the Sponge Peppermint Shrimp for #4 because we got a side view that rarely happens.
The thing is this site is always like this and we never even went to the sand/grass line, looked at no condos and turned no rocks on the Young Island side. Calle is so good at spotting critters I am always delighted. These guys at Dive St Vincent always find amazing stuff. That is why no matter how many times each year we come to St Vincent on our SCUBA dive charters, we always come a few days early so we can dive with Calle and DJ at Dive St Vincent.

So we rate this dive site PHENOMENAL at 4.5 making it one of the best dive sites in the hemisphere. It is not 5 because it would need variable structure and different environments in our rating system, but on all other scales it is 5 out of 5. Don't miss it and do it at least once with the guys at Dive St Vincent.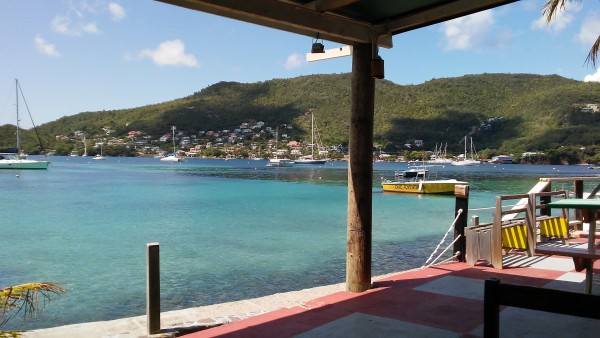 Ferry and Lunch at the Fig Tree It is Saturday and after the dive at Dive St Vincent we get a ride to the ferry from the Mariner's hotel where we stayed overnight. However, the 11:30 AM ferry is canceled, because the Admiral is not working. Luckily, our taxi driver makes it for the 11 AM departure and practically drives us into the ferry.

Bequia is great, the locals are all friendly and helpful. We decide to skip checking in with Tradewinds so we go straight to Dive Bequia. There is never a problem with leaving the luggage there and that would give us time for lunch. The Pizza shop sold and was being renovated and Gingerbread was closed so we walked along the recently renovated waterfront sidewalk over to Fig Tree for lunch with a great view of the bay.
Cathedral - Bequia We head out with Max for the dive at Cathedral. The dive is 1 hour 6 minutes, partly sunny skies, 0 waves, mild South current, with 60' visibility and 84F water temperature. We love Bequia and the diving there is excellent. It is not the "Critter Capital of the Caribbean, that is the claim to fame Bill Tewes created for St Vincent.

Bequia has some of the most colorful and beautiful reefs you will ever see, with tons of marine life, great structure with different environments, and just about everything is a nice easy drift.
The top 4 pictures are a school of Reef Butterflyfish attacking a nest of Sergeant Major eggs, a Fairy Basslet peeking out from an overhang, a White Spotted Filefish coming right into the camera lens, and a Red Lipped Blenny in the "gray" variety.

In the Grenadines, you will find Red Lipped Blennies all black, gray like this one (more like B&W), and virtually all white which is still commonly called gray. Click on any of the photos and you will be taken to the Specialzed Scuba Inc facebook photo album for that SCUBA dive.
Soft and hard coral, colorful sponges, Tunicates, Longsnout Butterflyfish, millions of Chromis, Boga, Yellowcheek Wrasse, Creole Wrasse and the list goes on far beyond the sample of photos in this album. Last year at this site with Cathy we filmed octopus mating. You never know.

We rated this dive site as EXCELLENT at 4.0 and just about every dive site here is just as good. After the dive they dunk our gear and gave us a lift to the Tradewinds dock. Great service and wonderful people at Dive Bequia. Highly recommended.
Welcome Aboard - Cabin Pics It is 5 PM Saturday and after barely making it on the ferry, then a great dive at Cathedral with Max from Dive Bequia, turns out we were the first to arrive. We are greeted by Paul and Jen, the terrific base managers for Tradewinds in Bequia. We have been on some wonderful charters with them in the past, and they run the operation in Bequia with customer service as the top priority. Paul helped us work out the Lifestyle charter going all the way to Grenada on a 14 day cruise and you could not ask for better people to work with whether its your first cruise or your 38th. We also took the opportunity to get some pictures of the 4 cabin Fountaine Pajot 50' before unpacking and starting "the mess up". Franco always tells me that on our SCUBA charters the boats look the "The Streets of Milan".
Sunset Port Elizabeth, Bequia Just another beautiful sunset to start our 2 week SCUBA itinerary going all the way to Grenada.

If you have been here in high season it is easy to see why we LOVE going in low season - there is nobody here.
---
Two & a Half - St Vincent
On Sunday morning in Bequia, after a leisurely breakfast, we sail over to St Vincent for a check out dive at Two and A Half. The site is shallow and loaded with critters so divers of any skill level can enjoy the dive.

We enter the water at 11:42 AM for 1 hour 17 minute dive, maximum depth 47', visibility 35' mild to medium current changing from East to South at various points in the dive. The sky is sunny, no waves and water temperature is 84F.
We don't do the fancy figure 8 that Calle does and simply make a clockwise circle around the site and back to the mooring.

The four highlighted images are Dusky Damselfish and a Cherubfish (the 2nd smallest Angelfish not commonly spotted elsewhere), a Jacknife Fish (similar to a Spotted Drum), Golden Coral Shrimp (similar to the common Banded Coral Shrimp) and a juvenile Golden Coney (we have never seen anywhere but the Grenadines). There is so much to see that even though we also spotted 4 octopi they don't make it into the top four.
The juvenile Soapfish were commonly spotted, Yellowheads were abundant in various phases, many juvenile Queen Angelfish, Red Spotted Hawkfish, Goldspotted Eels and lots and lots more.

We got back to the exact spot where both the Sea Horse and the big Spotted Moray were yesterday, but I could not find that Sea Horse.

Later on the boat, Mary Catherine had a movie clip of the big moray and sure enough in the background was the Sea Horse, but nobody saw it while we were right there. This site is SUPER EXCELLENT and we rate it 4.25

Orca Point St Vincent
After a relaxing lunch we sail from Young Island to Orca Bay where we will dive Orca III in the afternoon and as a night dive after dinner.

Everyone is relaxed in the calm bay and Corey pulls out the 2 large Portabella Mushrooms that will be the meat substitute for the vegetarian entree.


Orca III St Vincent
After a delightful lunch on the catamaran we enter the water at Orca III around 3:50 PM under sunny skies with no waves, a mild Southeast current. The dive is 1 hour 10 minutes with a maximum depth of 72', visibility is 40' and water temperature is 84F.

We follow the grass sand line on the east side until about 40' then we cut East to descend along the wall to our maximum depth. On the return along the wall we rise to 40' then cut West across the grass line and make a clockwise circle in the grass back to the boat. This dive plan is not just about critters, but includes time on the wonder wall section at the the point.
For the 4 highlighted photos of this album you will see a small school of Blackbar Soldierfish that were very prevalent along the wall, a Purplemouth Moray, a Flower Garden Yellow Snapping Shrimp and several tiny Bucktooth Parrotfish that like to hide in the grass.

We also did see another Key Brotula, Peppermint Goby, Mutton Hamlets, and lots of crabs, Eels, octopus and Captain Colin nabbed a real big Lionfish that started the Lionfish for dinner collection.
We rated this dive, done with this dive plan as EXCELLENT at 3.75 and there is no real reason to not give it a 4, but the West side was slightly more productive.

Sometimes when you do great dives one after another you lose sensitivity, its only an octopus, its only a Brotula, its only a [insert rare fish name here] that you have never seen anywhere else, but is locally abundant.
Sunset at Orca in St Vincent
Around 6:30 to 7:45 PM the sunsets year round since we are pretty close to the Equator so the days do not really change to much. Dinner will be at 8 PM then we will do a night dive from this anchorage.

Chef Sarah has created a delicious dinner of Roast Pork for the meat eaters and and Portabella Mushrooms for the vegetarians.
Night Dive Orca III
After dinner we do our night dive at 8:25 P.M. for 1 hour and 29 minutes, with no waves, a mild Southwest current, maximum depth of 53' and water temperature was 84F.

The top 4 photos a tiny Fringed Filefish that is almost impossible to spot, a Chain Moray Eel that is rarely seen, a Dusky Squirrelfish also uncommon, and Cryptic Teardrop Crabs that are only seen at night.
We used a Blue light on some of the photos to show how many marine animals will fluoresce.

We also spotted squid, Boga, various Eels, Spanish Lobster, Giant Basket Stars, Coral Clinging Crabs and lots of others all in the album.
We took over 300 photos on this dive and have at least 10 different subjects of uncommon marine life, but this is all part of the rating fatigue that numbs you to rare species that happen to be locally abundant.

This rated this as a night dive as VERY GOOD at 3.25 because we did not see the volume of marine life that we expected, compared to the save dive during the day.

In hind sight, it really was EXCELLENT and should be in the 4 category, but we stick with the impressions we have right after the dive as part of our rating process.