SailDives - Tortola
from Nanny Cay Marina on Tortola and through the British Virgin Islands - Boarding from 5 PM Saturdays. Click "Reserve a Cabin" to see the list.
SailDives BVI Itinerary Part I
This is a photo journal of the 2016 1 week trip in Tortola and the British Virgin Islands. All the photos were taken on the dates and places listed so that you can get a feel for what this cruise is like. We can not guarantee that this will be "exactly" what we do on any future itinerary or that you will see the exact same things we saw on this trip, but if you take the time to read the journal, look at the photos and click the linked photos to see the full photo albums, you will have a very good understanding of what this type of a trip is like.
---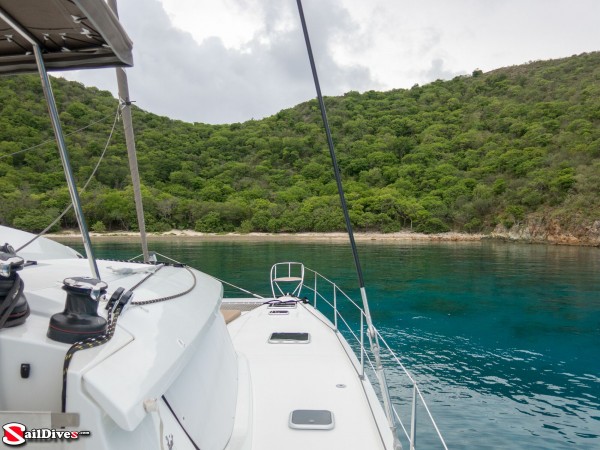 Sunday - 28 AUG 2016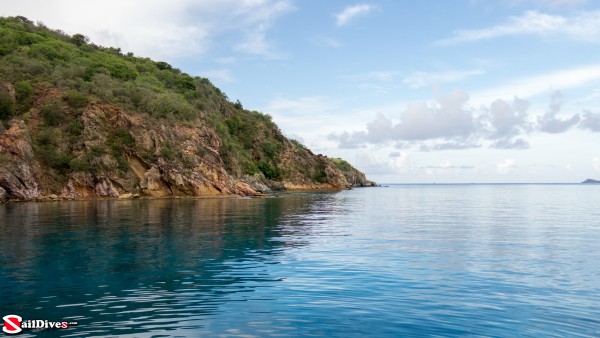 Sharksuckers at Anchor
Saturday at 5 P.M. was boarding but many of he guests arrived late. Everyone met their week long companions and shared some welcome cocktails.

As each guest arrived the crew showed them to their cabin and explained where the light switches were and demonstrated the button to press to flush the head and similar cabin orientation instructions.

The guests choose their own schedule for socializing and the time to unpack their suitcases into their respective cabins. The empty suitcases are brought up to the deck where the crew stows them ashore until our return in a week. We then move to a nearby bay to anchor overnight.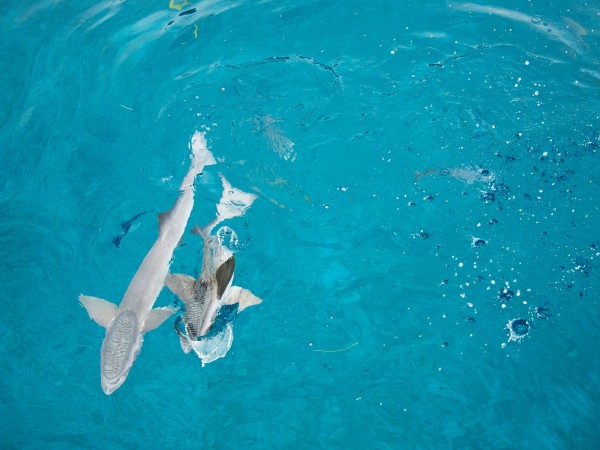 By 8:00 P.M. its time for the first dinner on the yacht. Each guest has their favorite beverages and the guests are served by the crew who join us for the main course.

Our crew is a young couple with years of sailing and SCUBA diving experience, both have captain's licenses and both are diving instructors.

The captain is Maddy and her first mate and the chef is Louden. It is not the first time that we have had crew who decided to reverse the "traditional" roles.

Sunday morning at anchor and some Sharksuckers are looking for a ride
---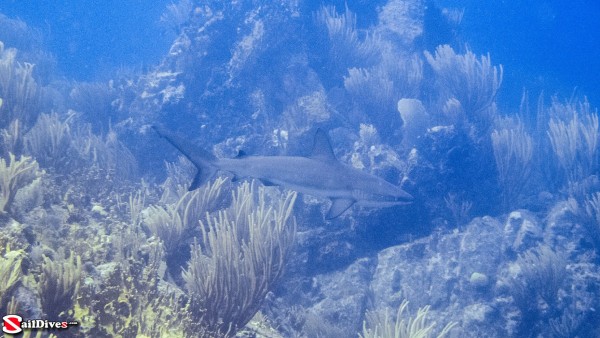 Dive Santa Monica Rock
Our first dive of the week is at one of our favorites, Santa Monica Rock.

It is one of those places that I can say with confidence, we will see some reef sharks and it has never failed us yet.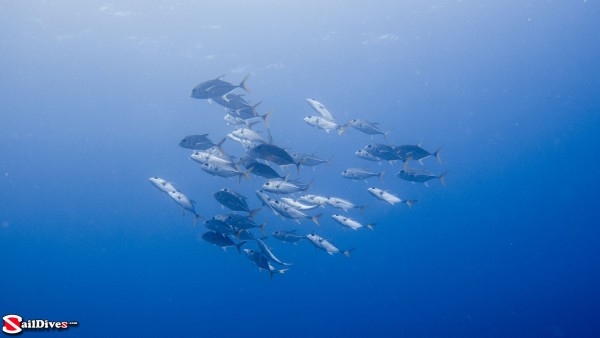 We enter the water at 9:30 AM after a delightful breakfast, there are no waves, it is sunny with a mild South current.

Visibility is 80', water temperature is 82F and our max depth is 76', average 49' for a 58 minute dive.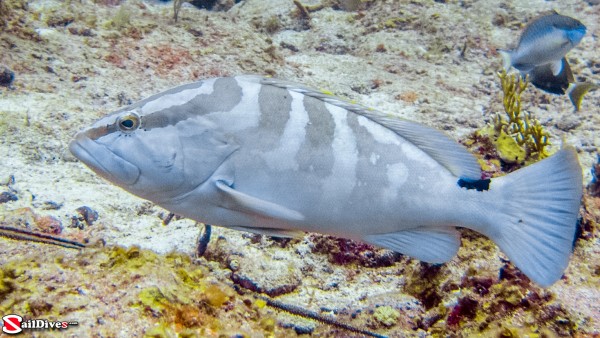 We spot several reef sharks that swing by from time to time, numerous Fairy Basslets, Nassau Grouper, Dog Snapper, many grunts, nurse shark, White Spotted Filefish, Black Durgeon, Porcupinefish, Saddle Blennies, Corkscrew Anemones with Peterson Shrimp, a school of Horse Eyed Jacks, Barracuda, Lobster, Channel Crab and more than 5 very large Lionfish.

While sharks have become scarce in many parts of the Caribbean, this dive site always delivers, with healthy soft corals that wave in the gentle surge, large and small marine life, great structure and wonderful visibility we rate this dive site as EXCEPTIONAL at 4.25

This site offers great reef coverage, great structure with multiple enviornments, large amounts of reef life and consistantly produres the rarely observed Caribbean Reef Shark that is slowy dissappearing from the Caribbean Sea. This rare distinction make the site exceptional.
---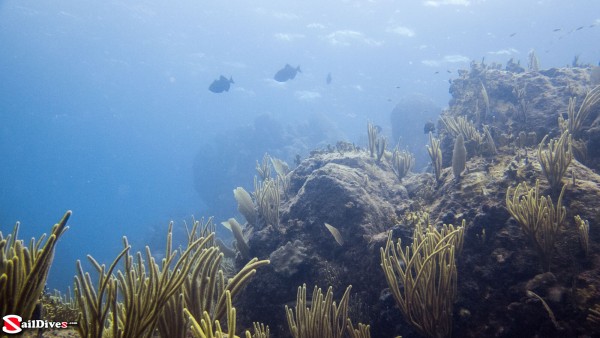 Brown Pants
Our second dive of the week on Discover, a new Tradewinds 52' catamaran sailing yacht, is at a site we have wanted to do for awhile called Brown Pants.

The name comes from a group of Bull Sharks that followed around some divers, many years ago, so they left in a hurry and hence the name "Brown Pants".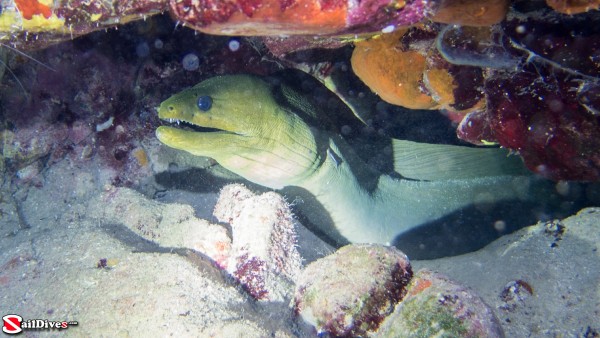 We enter the water at 12:10 PM, with 1'-2' waves under partly sunny skies. The water temperature is 84F with a mild South East current and visibility is 65'. The dive is 1 hour 35 minutes with a maximum depth of 43' and average of 30'.

We are greeted by an Eagle Ray that swam around us for a while and in 2 different caves there was a large Green Moray Eel.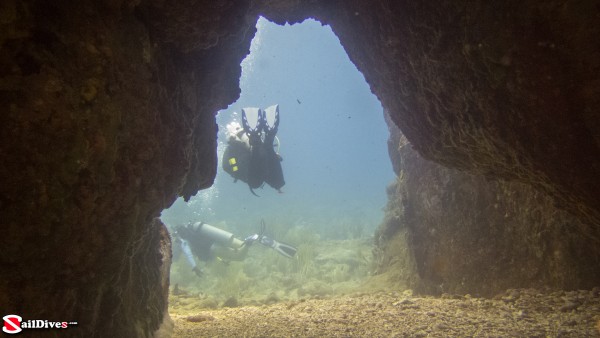 The site has many rocks and boulders and lots of soft corals.

We photographed Caesar Grunts, White Spotted Filefish, and very cool mantis shrimp, intermediate Spotted Drum, Scrawled Filefish, Black Durgeon, many Fairy Basslets, Bi-Colored Damselfish, adult and juvenile Blue Head wrasse, Barracuda, but very strangely, not a single Hamlet.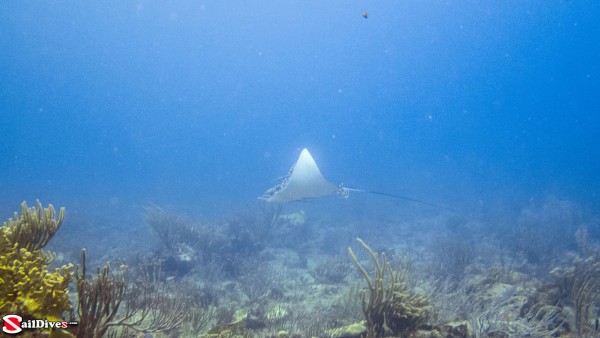 There were Spinyhead and Secretary Blennies, Squirrelfish, Bar Jacks, Rock Hind, Striped Parrotfish, Blue Tang, Black Durgeon, Banded Pufferfish. Saddle Blenny, many Fairy Basslets, Spotfin Butterflyfish, Sand Tilefish, Corkscrew Anemones and Peterson Shrimp, Greater Soapfish, Orange Spotted Filefish, Mahogany Snapper, Stoplight Parrotfish, Blue Tang, Porcupinefish, Caesar Grunt and juvenile Blue Tang.

The site has great topography with rocks, ledges and caves and lots of nooks and crannies to hold the marine life, soft and hard corals. There was a very nice depth of marine life and we rated the dive site as VERY VERY GOOD at 3.75
---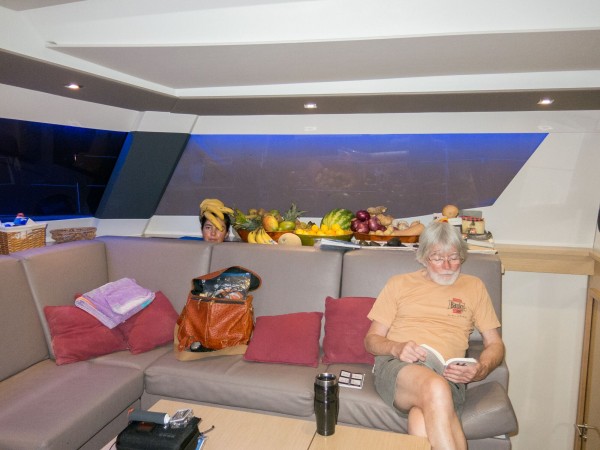 Coconut Head
After a delightful dinner and two great dives, it is time for Wayne to relax in the saloon with a good book.

It is a peaceful evening and fresh fruit is on the counter for a healthy snack.

Everything is "normal" or is it?
---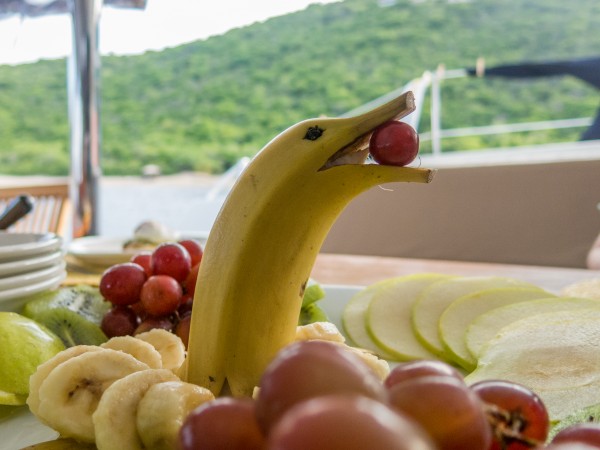 Monday - 29 AUG 2016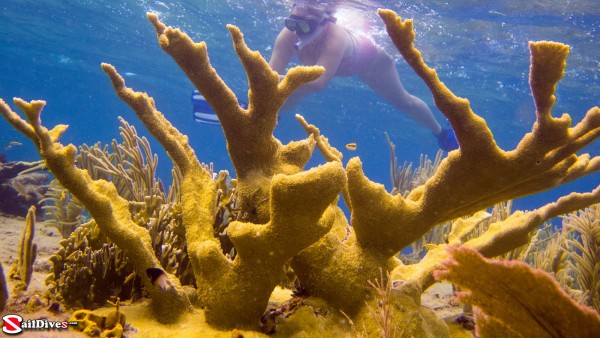 Dolphin for Breakfast?
Who wouldn't like to have this dolphin for breakfast?

Louden has already impressed us with his meals, but this little decoration put a smile on everyone's face.
---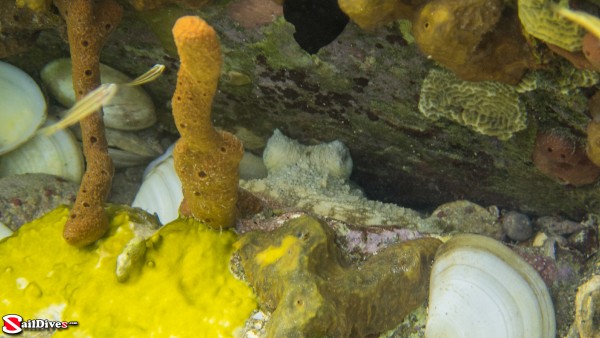 Morning Snorkel
After breakfast we swim around the bay near the boat for a little snokel time.

Lots of juveniles, cup corals, and colorful Christmas Tree Worms, and many conchs that the locals obviously have not found.

To our surprise there was even some copper colored Glassy Sweepers in the dark cracks between some big boulders.

Michelle wanted to see an octopus, and it took 30 minutes or so, but mission accomplished.

Often you can spot the "Octopus Garden" long before you can spot the octopus. Look for a large number of clean shells in one location typically near or between rocks. Then you have found an octopus garden.

Find the octopus garden and you can find where he lives, but as always, even if you know where they live, they are not always home. So visit often is my motto.
---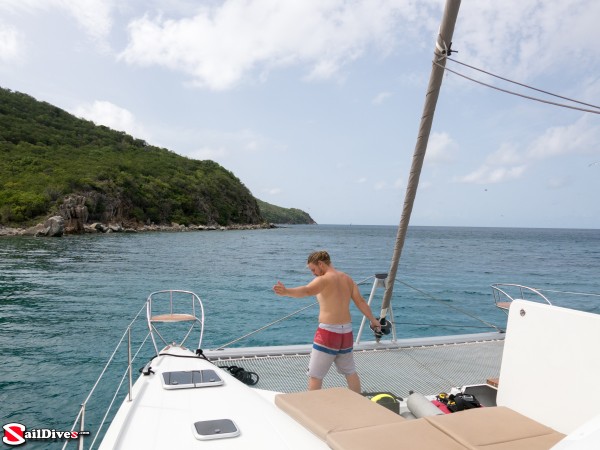 Sailing to Fearless & Willy T
It is 9:30 A.M. and we have just enjoyed a delightful breakfast of Dophin?!?

Now its time for a sail over to the Wreck of the Fearless and the old Will T dives sites.

On our morning snorkel we found lots of conch, Glassy Sweeps and an octopus.

Dolphin, conchs and octopus, looks like a pretty interesting start of the day.
---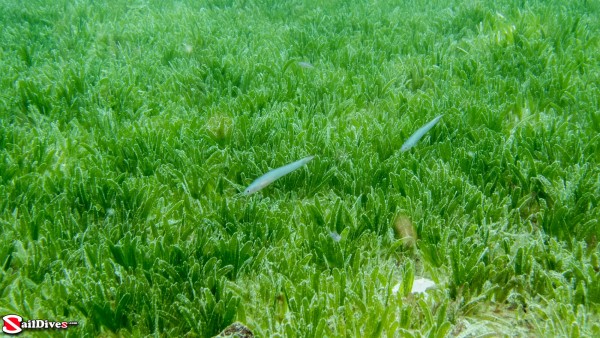 Dive The Fearless Wreck
Our third dive is at 10:38 AM. We spent some time sailing around and checking conditions.

We had "planned" to do Shark Point, but the weather did not cooperate and we needed to do a protected site.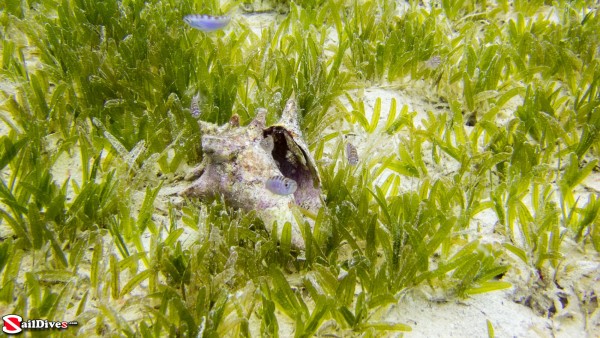 Everything in the BVI is so close that we have the "no plan" plan also know as "plans can be changed at a moments notice plan" which is great in the BVI because as the once popular search site emphasized "you always have other options" [in the BVI].

So after Shark Point is 86 we head to The Wreck of the Fearless, which is actually quite a deep dive for the BVI.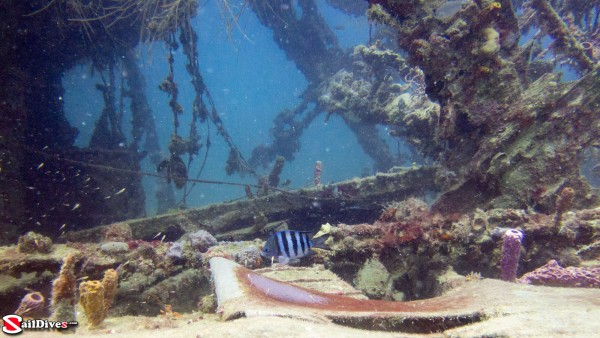 We finally enter the water at 10:38 AM under partly sunny skies with 1'-2' waves but no current. The dive lasts 56 minutes with a maximum depth 84' and average 55' with 30' visibility and 82F water temperature. This is an old wooden wreck that can not be penetrated.

At the mooring pin there are numerous Chalk Bass and Tobacco fish milling about in the grass and powdery white sand.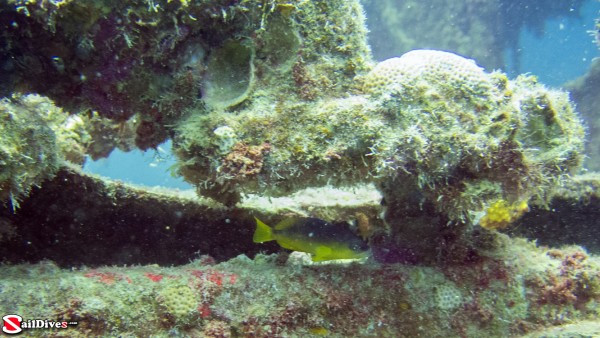 It is the powdery sand and the stillness of the location that contributes to the typically poor visibility at this site.

We photograph Four eye Butterflyfish, Barred Hamlet, Blue Bell Tunicates, Saucereye Porgy, Hogfish, Painted Tunicates, Yellowtail Hamlet, Blueheads, Stripped Parrotfish, Bushy Hydroids, Blue Eye Hermit Crab, Dartfish, White Margate, Lane Snappers, Sergeant Majors guarding eggs, Yellowbelly Hamlet, Brown Chromis, Blueheads, Butter Hamlet, Glass Goby, Fleshy Coral, Black Bush Coral, Spinyhead Blenny, Red Spotted Hawkfish, and Princess Parrotfish.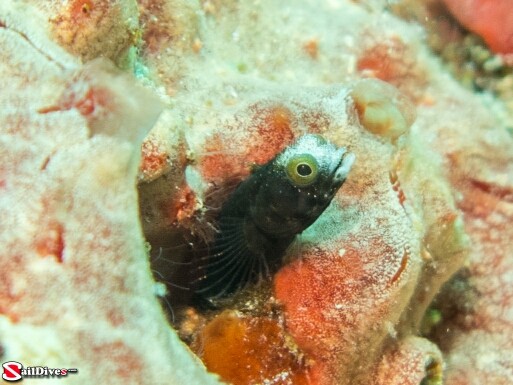 The wreck is interesting because it is wood, but it can not be penetrated and there is no descending reef to allow for a multi-level dive.

Although we do work our way from the sand to the top of the mast to extend our bottom time. Since it is deep, there is less ambient light and the site typically has poor visibility.

There are numerous fish and the Lane Snappers were interesting to find here and there are lots of blennies for the macro shooters, but the depth limits your time.

For these reason we rate this dive site as below average at 2.5 and a site that we generally would do as a fall back position because of weather. It is still way better than staying dry.
---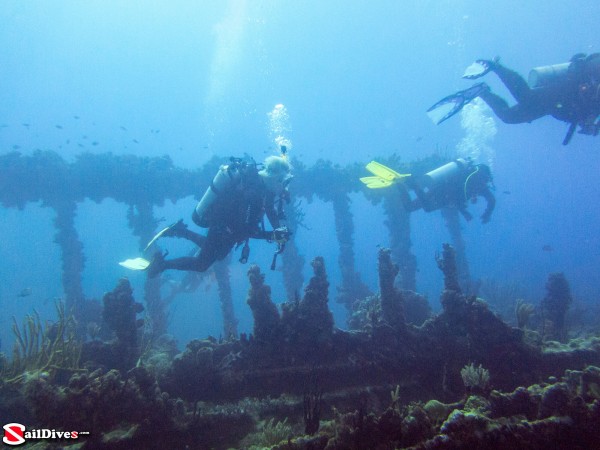 Wreck of the Rhone
The 4th dive of our SailDives charter in the BVI was the famous Wreck of the Rhone.

Often cited as one of the "must do" dives in the BVI, the site is enormous, with sections spread over a large section of this marine park.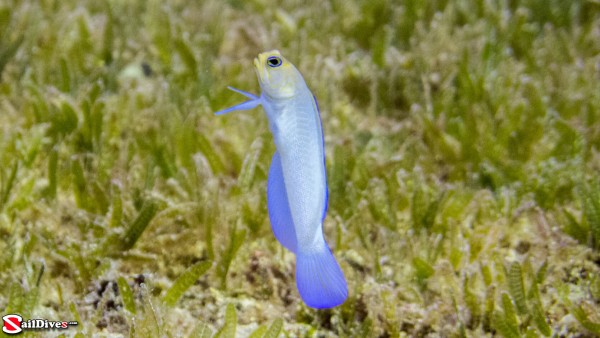 It is typically done as 2 dives: the bow section or the stern section. The bow section has a nice swim through and was the location where the movie "The Abyss" was filmed.

The stern section, that we opted for on this dive, has a small swim through between the bottom of the hull and the gigantic propeller. It is also in the stern section where the "silver spoon" and the "Lucky Porthole" are found.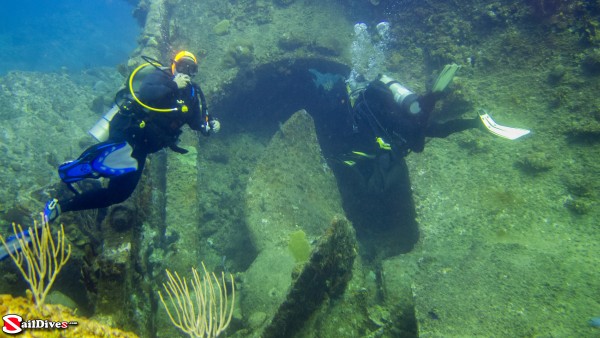 We enter the water at 4:39 pm under partly sunny skies with 2' waves and a mild South East current. The dive is 57 minutes with maximum depth of 66' and average of 39' with 55' visibility.

Aside from the size and history of this site, it is loaded with marine life of all kinds, large and small. Maddy spotted 2 reef sharks, but they were gone before we could get any photographs.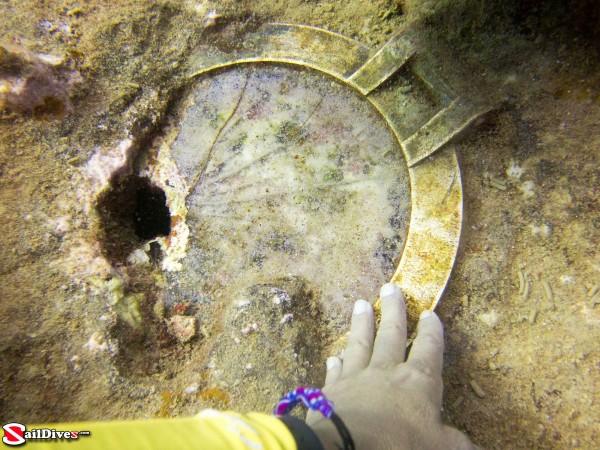 We do the swim through at the stern by the prop, swing around past the columns near the stern and return along the drive shaft to the silver spoon and then to the Lucky Porthole where everyone got a chance to give it a rub for good luck.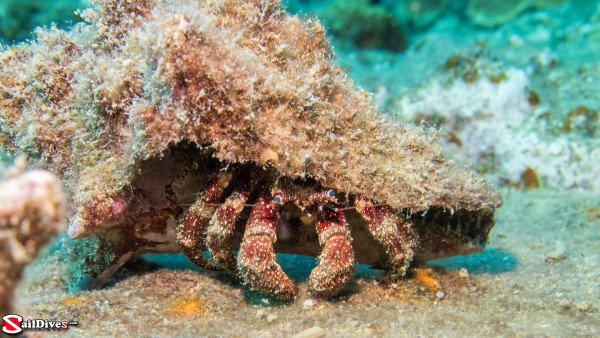 We photographed Yellowhead Jawfish that were abundant, Mutton Snapper, Spotted Drum, Coney, Trumpetfish, Schoolmasters, Black Condominium Tunicates, Blue Bell Tunicates, Black Margate, Orange Cup coral, Black Bar Soldierfish, Caesar Grunts, Schooling Boga, White Telesto, White Margate, large Porcupinefish, Queen Angelfsh, Giant Basket Star, Blue Chromis, Blueheads, Fairy Basslets, Turtle, Cleaning Goby, Glass/Masked Goby, Giant Tunicate, Spotted Goatfish, White Spotted Filefish, Sergeant Major, Blue Eyed Hermit Crab, Yellowfin Mojarra, Glass Eye Snapper, Mahogany Snapper, Rose Lace Coral and Peterson Shrimp.

Much of the site is a hard bottom, making it difficult for anchors to get a firm hold, but in the cracks is where the careful observer will find Corkscrew Anemones, Peterson Shrimp and other critters that seem to be absent.

This is a great dive site with everything a diver of any skill level of interest could want and we rate the site EXCELLENT at 4.0
---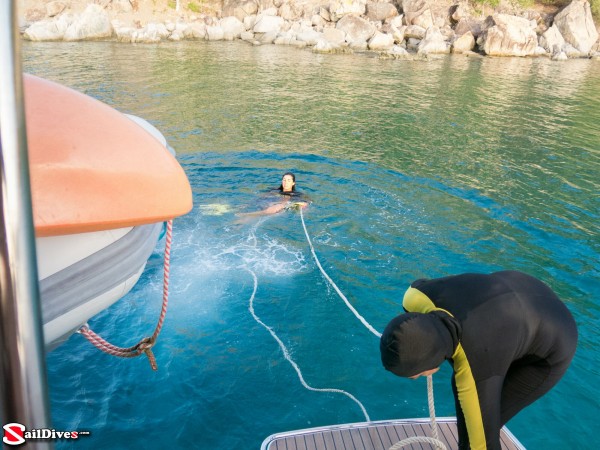 Secure the Stern for a Dinner Breeze
While the guests use the calm bay to romove their BCDs from the spent tanks from the Rhone dive, Captain Maddy, with the help of Corey Victor Krosley secure the stern to rocks so the guests can enjoy the breeze for dinner.

Later that night the line is released as the wind picked up force.
---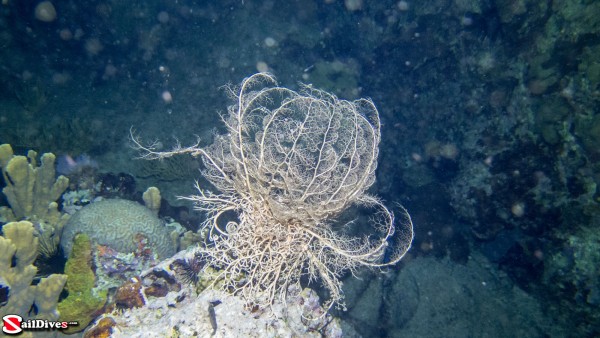 Night Snorkel-Dive Salt Pond Bay
We anchor at Salt Pond Bay for the night, and most of the guests had little interest in doing a night dive, but Michelle had never done a night dive and wanted to try it out.

So we dive a short snorkel-dive using left over tanks that had about 1,000 psi remaining.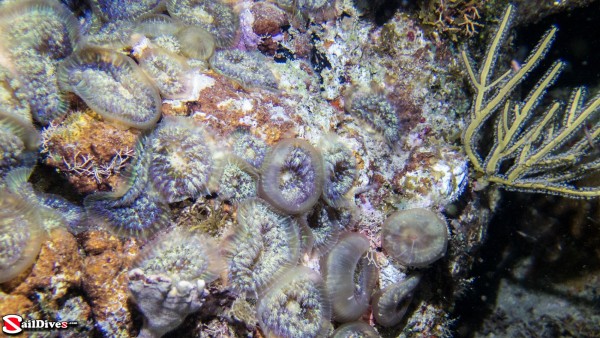 Generally speaking, women are much better than men on air consumption, and typically 3 of the women would have 500 to 700 psi more left than the best of the men at the end of every dive.

So after dinner we enter the water at 10:08 PM in the calm shallow waters of Salt Pond Bay.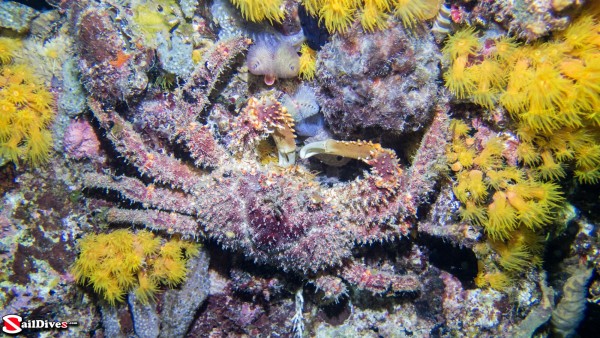 The dive is 33 minutes with a maximum depth of 12' and average of 7' with 82F temperature and 20' of visibility.

This is the perfect location for a first night dive with plenty to see, both large and small.

We head out from the anchorage toward the shoreline and follow it along to the point and return, checking out the large boulders and coral heads near the rocky shore.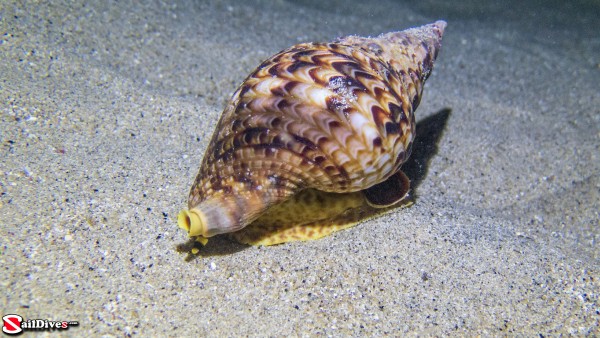 During this dive we photograph Social feather Dusters, orange Cup Corals with polyps fully extended, two octopi, tube anemones, Channel Clinging Crab, Giant Basket Stars opened and feeding on the drift, Greater Soapfish, Red Night Shrimp, Warty Corallimorphs, Tulip Conch, a few other crabs I did not look up, hard corals with polys extended, Christmas Tree Tube Worms, Flamefish, Dusky Squirrelfish, Flatworms, and various Urchins.

Unfortunately, when Michelle climbed the ladder to get back on board, a jelly passed by just at that second and her legs were severely stung in many places. She made a mistake and grabbed the hose on the sugar scoop and tried to rinse them off which only aggravated the situation.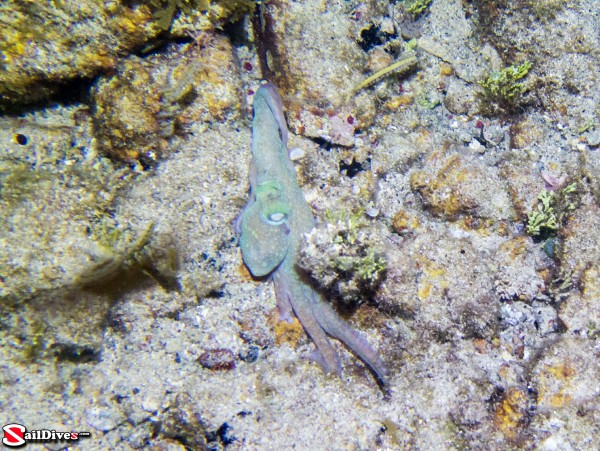 The crew dosed her with vinegar and the camera bucket was filled with hot water for immersion. It was quite painful, but fortunately doctor Jim was onboard with some handy medicine that helped relive the swelling and pain, along with a bottle and a half of red wine, that helped her not really care.

Within 3 hours the pain had dropped from a 9 to a 6 and the next day it was very itchy, but no pain. Despite all this, she loved the night dive and was continued to participate in all the activities the rest of the trip. What a trooper!
---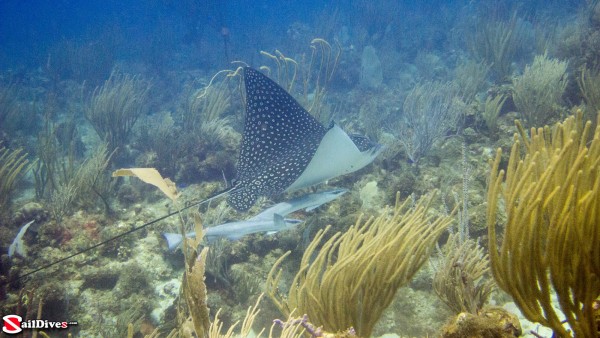 Tuesday - 30 AUG 2016

Dive Thumb Rock
Our 5th dive on the SailDives itinerary in BVI is at Thumb Rock.

We first sailed out to Mecurious Rock but the conditions seemed tenuous so Loudyn jumped in with snorkel gear to check out the conditions.

There was strong surge and current and he quickly decided to get off the surface and back on the boat when quickly greeted by some rather large sharks.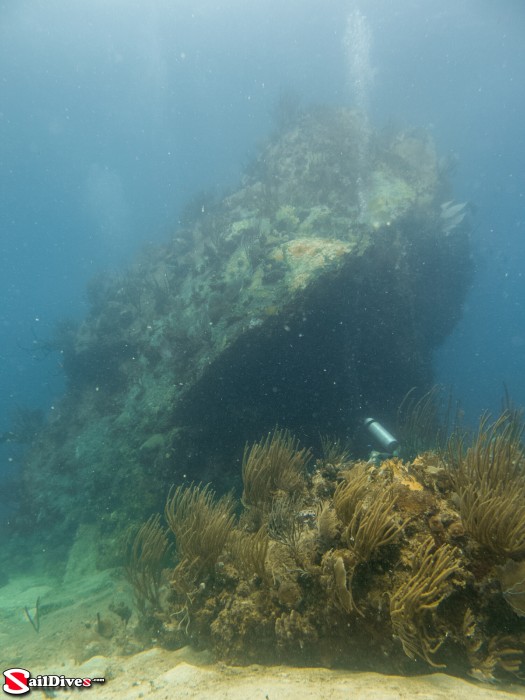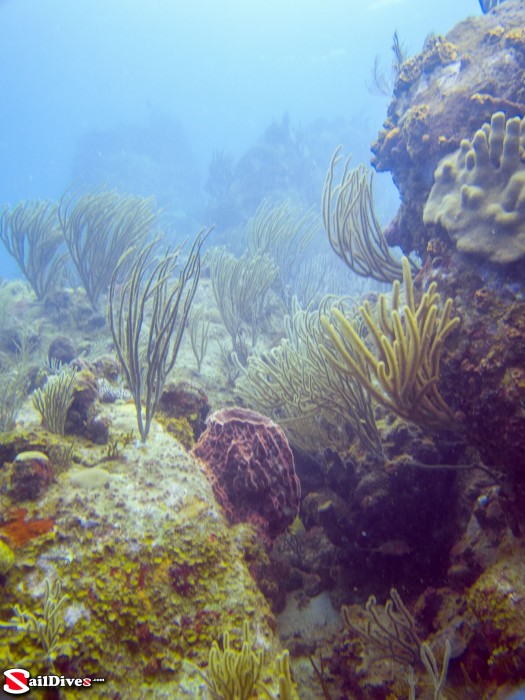 Then, we head to Wilson Rock to check the conditions there, but again the current and surge was too strong and visibility was poor.

Finally, we head to Thumb Rock where we do our next dive. We enter the water at 9:58 AM under sunny skies, with 2'-3' waves.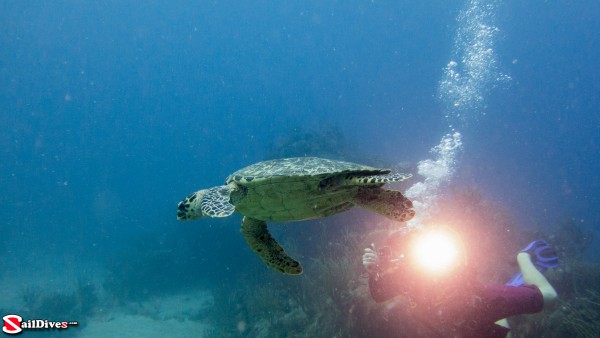 The dive is 52 minutes with a maximum depth of 61', average 39', with 80' visibility, 82F but no current.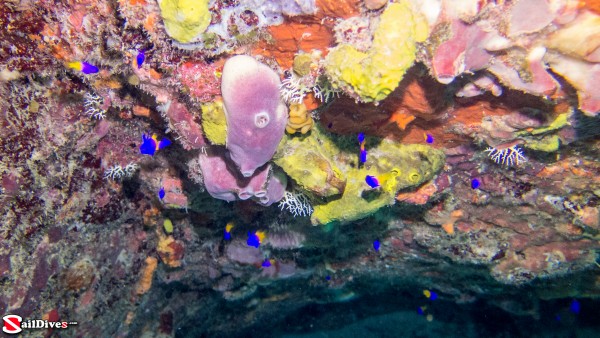 There is no mistaking Thumb Rock and it stands out in obvious contract to the surrounding reef and sandy bottom.

On this dive we photograph Yellowhead Jawfish, Cubera Snapper, Sergeant Majors, Busy Hydroids, Chub, Black Bar Soldierfish, Fairy Basslets, Saucer Eye Porgy, White Spotted Filefish, Butter Hamlet, Black Durgeon, Blueheads, Flamingo Tongue, Blue Chromis, Ocean Surgeonfish, massive schooling of Creole Wrasse, Rose Lace Coral, Turtle, Lobster, Cleaning Goby, huge Lionfish, Grey Angelfish, French Grunts, Schoolmaster, Bi-colored Coney, Lane Snapper, Pillar Coral, Eagle Ray with 2 Sharksuckers, and a Nurse Shark.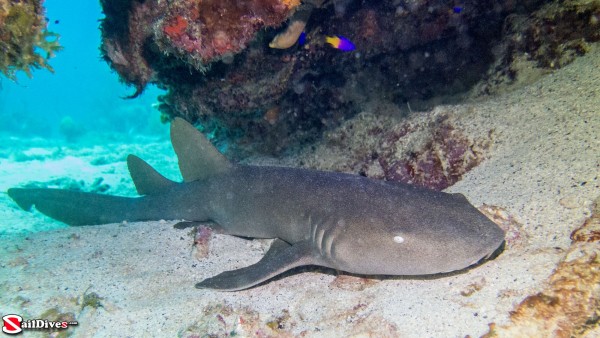 The site has the unique and distinguishing feature of the namesake rock, but the reef is rather level in most sections, but you can multilevel closer to shore where it is mainly large boulders with less corals or sponges.

There is some great topography not only from the rock itself, but the waves crashing along the shoreline. There were both large and small marine animals, lots of soft corals in the 35' to 45' range and an unbelievable number of Sergeant Majors all around Thumb Rock.

We rate this dive site as VERY VERY GOOD at 3.75 and we look forward to diving this site again and again in the future.
---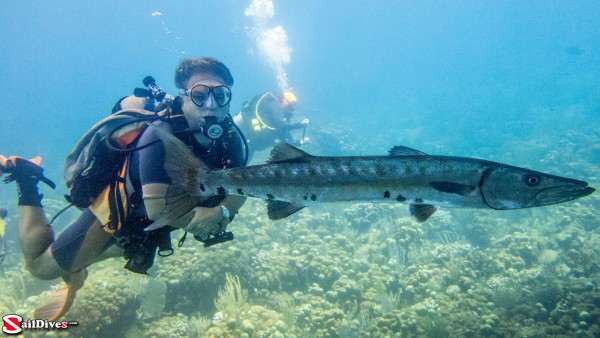 Ginger's Backside
Our 6th dive on the Tradewinds new 52' sailing yacht was at Ginger's backside.

This is a mellow dive on a small sloping reef that ends in the sand and patch coral around 40', but goes deeper on the East end to around 60' and the top of the reef is between 10' to 15' with lots of hard and soft corals.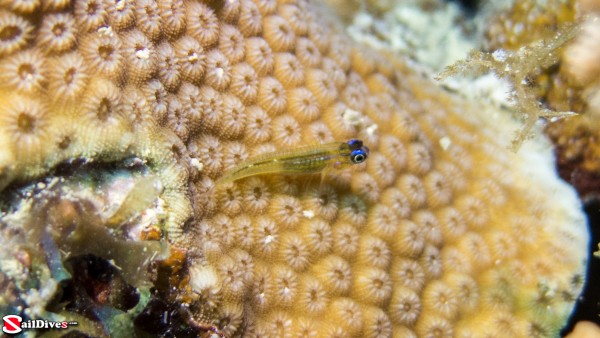 The dive plan is to head toward the sand from the mooring then make a clockwise multilevel circle back to the boat. We start the dive at noon under sunny skies, with a mild West current and 0 to 1' waves.

The dive is 1 hour 10 minutes with a maximum depth of 56' and average of 27', 82F with 45' visibility.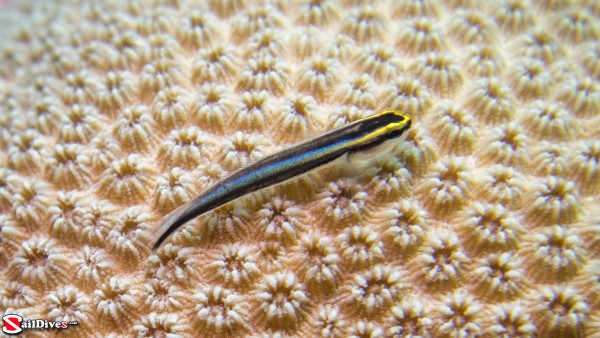 This site is great for those who appreciate the macro view, but also has one of the largest fields of Staghorn Coral that we have seen anywhere.

The Elkhorn coral along the top of the reef still has many healthy specimens, but as typical with that species throughout the Caribbean, much of it has been damaged or killed off.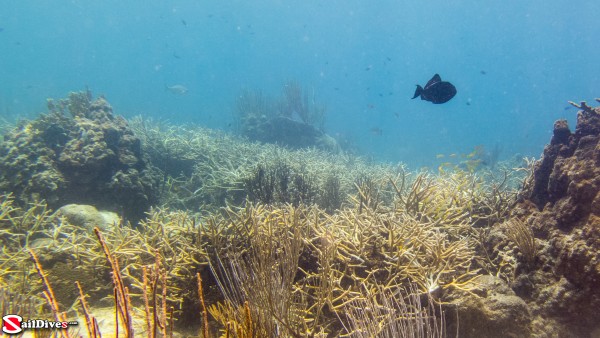 During this dive we photographed in this album Lettuce Slug, Peppermint Goby, Sand Diver, Yellowhead Jawfish, Spinyhead Blenny, Dog Snapper, Secretary Blenny, Cleaning Goby, Black Durgeon, Yellowtail Snapper, Striped Parrotfish, Blue Chromis, Creole Wrasse, Redband Parrotfish, Peppermint Basslet, Schoolmaster, Fairy Basslet, Glass Eye Snapper, Black Hamlet, Yellowtail Hamlet, Brown Chromis, Saddled Blenny, and a Giant Barracuda under the yacht that had no problems with us getting up close and personal, but no touching please!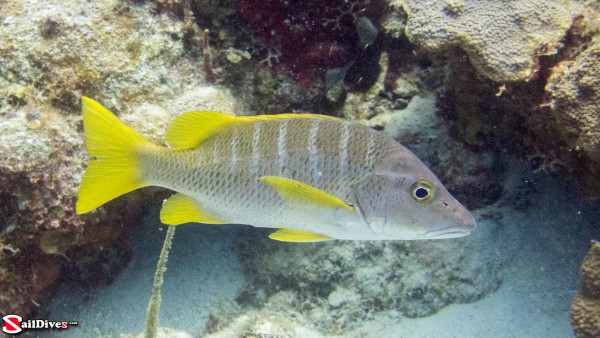 So OK, this site lacks some of the excitement of dramatic topography, huge schools of fish, large marine animals and crazy currents, but it makes up for it with an incredible amount of macro subjects, the largest field of Staghorn coral we have ever seen and a sloping reef that is shallow at the top and filled with life that could let you just stay put and watch the show for hours on end.

The ability to spot and get a half decent photograph of a Peppermint Basslet, always hard to photograph, earns some bonus points.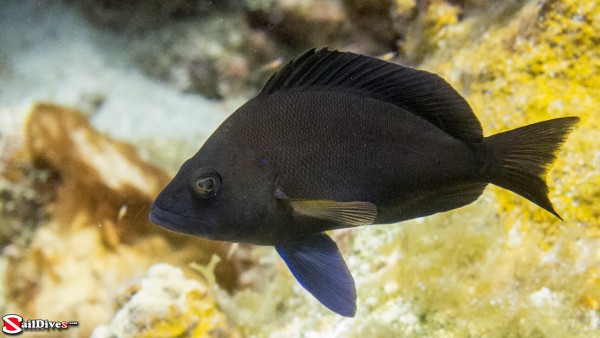 There are plenty of spots in 20' of water, with patches of sand between the coral heads, so the macro photographer can safely pause and wait for shot after shot of the many macro subjects, although that would be boring for most recreational divers, so we always mix it up.

We rated this dive site at 3.25 as very good, based upon what the average diver would enjoy. For the macro photographer, you could add another .5 because t is so rich in subject matter and has many opportunities for shot at some rarely spotted tiny marine animals.